So now that we're past the initial OMG OMG OMG the Vegas Residency is REAL stage… (well for the most part. I know the general sale is on the 1st.) I wanted to put this out into the universe in hopes that the Fandom Gods (or Backstreet Boys/Wonderful Union, whichever!) will smile down upon us all. Because now that we are past it, I'm sure we're all starting to wonder what kind of show it will be…am I right? We've figured out what shows we're going to (I'm extremely proud of my self control and only got tickets to three shows so far). So this is just the next logical thought for the fangirl section of our brains that still knows their birthdays and random Backstreet facts.
I'm sure you're asking, well Rose what CAN we expect? I don't know yet, not for sure.
I will say Vegas Residency shows are definitely bigger than your normal concert.
Brian described it as Backstreet Boys on STEROIDS.

Which, awesome! I want a big production. I've never been to a BSB show that was a full on production. They've toned things down in the past few tours which is totally cool cause while they're still high energy it still brings in a different kind of concert experience we all love. Bring on the big guns! That's the kind of thing I expect in my city.
They also mention all the hits.
So let's stop here. I'm not knocking adding essentially the Chapter One album to the set list. I'm not. I get it. There's going to be a lot of casual fans who go to this kind of show. This isn't a normal tour. A lot of people will be like 'Oh my god, BSB have a residency in Las Vegas? I haven't seen them since I was a kid! Let's go!' and that's amazing. It's awesome. But as AJ mentioned in a recent interview with Billboard, their core fanbase are "Ride or Die" fans. We've been here for awhile and we're not going anywhere.
So…the set list won't be nothing but the hits. How do I know this for sure? Okay technically I don't. But it wouldn't be long enough. We're looking at a show well over an hour and the hits won't cover that. So here's what I'm suggesting…
Perform songs we haven't seen live in a LONG time!
Trust me, this is something I've seen a lot of fans say. And I kind of agree. There's a lot of us who've been fans since we were kids but maybe we didn't get to go to concerts back then. That's the case with me, actually. As a kid my parents couldn't afford to take me to their shows, so my first BSB concert (or concert period) was the Never Gone tour. I never got to see the Millennium tour or the Black and Blue tour in all their glory. I can't be alone and since the Vegas Residency won't be a "tour" for the new album, why not do the songs we'd kill to hear?
I'll be kind and even leave off the unreleased leaked tracks, just to be fair. Bonus tracks, well…I'm deciding those count cause they weren't leaks. I'm also including songs from the two albums Kevin wasn't there for. Cause that is DEFINITELY a new experience and there's some gems on there. Besides, I can't be the only one who wants to see Kevin do the Panic Dance.
I might have a few ideas. We're talking songs like…
It's Gotta Be You
I Wanna Be With You
Every Time I Close My Eyes
Nobody But You
Like A Child
Missing You
Shining Star
Get Another Boyfriend
The Answer To Our Life
Don't Leave Me
Feels Like Home
Soldier
Make Believe
No One Else Comes Close
Don't Want To Lose You Now
Poster Girl
My Beautiful Woman
Masquerade
Shattered
Panic
Unsuspecting Sunday Afternoon
Take Care
Light On
The ones bolded are the ones I'd personally like to see most. I see it as something for everyone. We all enjoy the hits but at the same time this will definitely mix it up for us "Ride or Die" fans while keeping the casual nostalgia driven crowd just as happy.
Consider it Boys…please?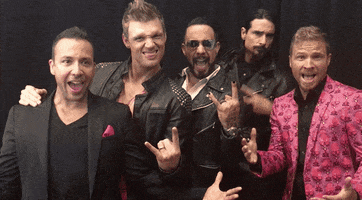 If you haven't bought your tickets yet for the Las Vegas residency the presale is still going on! You can get them here at Ticketmaster and the general sale (where more tickets will be released) will go live at 10am PST October 1st! You can also get VIP (including Meet and Greet) at backstreetboys.com on October 9th.
(What songs do YOU want to see in the Vegas Residency set list? Comment below!)