Sorry this took longer than I meant it too! I got held up when we were hit up by Wonderful Union about things fans want to see in the Fan Club. (Hopefully that pans out into actual changes!)
So we've talked about the rumors and we talked about the misconceptions about a BSB Residency. I wanted to have a post covering what we know and every single update we get from now until the rumored date of the nine date trial run. Mainly because my last post is going to get messy if I keep using for updates. I want to keep the confirmed information (or news I'm 98% sure of) in here. I might add a FAQ at the bottom if you have any questions so that way you guys aren't confused about what a residency will be like. Example? I see a lot of people saying it'll be a regular tour show and that's so FALSE. Residency shows are bigger, more showy! They have to be, because well, it's Las Vegas. I've been to a few and they're definitely more of a show as opposed to a concert. When we get actual dates on when the shows will be, I'll personally help as many fans as I can sort out where to stay in Vegas and how to get around.
So…what do we know?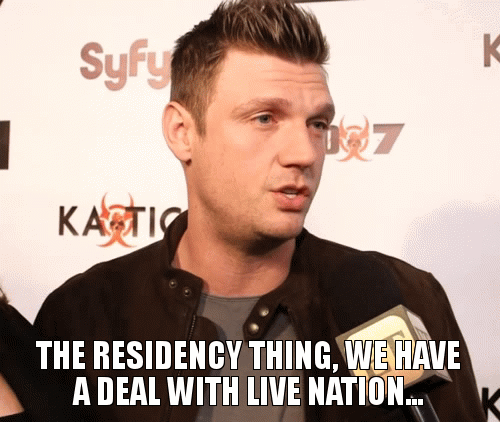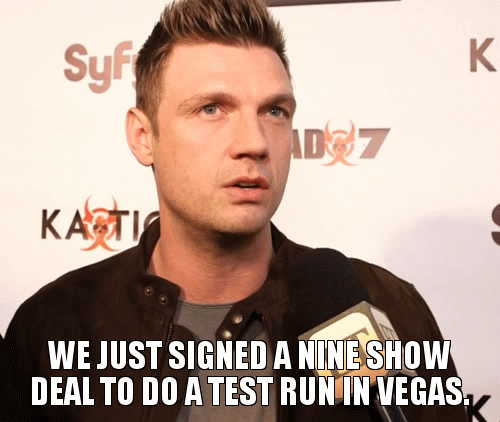 It's going to start as a "trial run".
Nick, AJ, and Kevin have all confirmed that they have a deal with Live Nation for a Nine-Show Trial Run to see if a residency will sell well enough to make it long term. Yes, these nine shows will count as part of the 180(?) shows they are contractually obligated to do within the next year or so. No worries on that end, these will only help instead of getting in the way.
If This Sells Well It Could Lead To A Longer Residency
But that doesn't mean they won't go tour the world. So don't panic! Boyz II Men take breaks to tour all the time. Britney takes month long breaks. Britney also released an album during her residency and added songs from it to her show. So they can break to tour the world, and they can still release new albums. This isn't the end of anything if it goes into a longer residency. It'll be good for them if this does – and residencies can be as short as six months or as long as several years.
No set dates yet but the general time will be in January March 2017.
The Boys are giving us a time frame! I mean we don't have actual dates because you know, Backstreet time. Still, by their standards this is pretty good notice. Brian, Nick, AJ and Kevin have all confirmed this so 2017 will be the year of Vegas! That means they'll mostly go on sale by fall. Start saving people!
Update – AJ said at the Dead 7 Panel at Fandom Fest that the Vegas Trial run will be happening in March of 2017. So it looks like it did get bumped back a bit, but it's still spring next year! He also mentioned it'll take place during three weekends that month.
Update 8/29 – Nick has also mentioned March in this Facebook chat he did, in response to a question about when BSB will be touring again. (Doubtful he's actually talking about a real tour.) He also mentioned in his blog on nickcarter.net that in September, BSB new is coming and I quote "You probably already know what I'm talking about lol." – Pretty sure this announcement is what he's talking about since it's obvious we all know about Vegas LOL.
We don't have confirmation on where the residency will be, but…a little Kiwi tweeted us that it's most likely going to be Planet Hollywood.
Mind you, this can change cause I don't have full confirmation yet. I do have a cousin who works as a stagehand at PH so I'll have him keep an ear out for me in terms of news. But, it makes sense. They were comped rooms at Caesar's when they came to see Britney's show at Planet Hollywood (and making deals). They had two In A World Like This tour shows back in 2014 at that venue. It's decent sized and you have a great view from almost anywhere. I approve of this location but again, this might change cause Caesar's owns half the Las Vegas Strip.
I'll add future updates in here as I get them!
Frequently Asked Questions
So thanks to twitter and the TDS Forum I've seen a few things come up in question and I just want to clear them up as best I can.
The 9 Date Series Of Shows Will Start A Tour?
Highly doubtful. The album isn't done yet, and there's been no indication that this run of shows will lead to any full length tour. The residency trial will just be that, a test to see if they could do one long term.
This will be a "musical" or something BSB influenced as opposed to actual concerts.
False. There is already, for example a cover band show of various 90s bands. There's been nothing to support that unknown NYC thing about a musical will happen since those rumors a couple years ago. This will be bigger and more say…Vegas style, but they will be concerts from our Boys.
What are the prices for tickets and VIP? (Is there VIP)?
The moment I know ticket prices I'll do a separate post posting all the confirmed information we have – prices, sale dates, show dates, hotel suggestions maybe. As for VIP, Britney has VIP for her residency so I can't see why BSB wouldn't. But we won't know for sure till this gets announced officially – whenever that will be, and tickets are up for sale.
What about After Parties?
Not sure they'll have them here but I'll warn you, because Vegas after parties are always at one of the major clubs out here, they have a different vibe. A bit crazier in terms of the crowds and a lot more people there. If I get word about After Parties though, I'll be sure to let you guys know ASAP.
Will fans have a chance to come on stage?
Depends on the Boys. Britney's done it at her shows. But there's no way we'll know until the actual series of shows. I wouldn't rule it out though. I mean they did it during NKOTBSB and the IAWLT tour. So why not? I just can't say either way.
If You Have Questions About Vegas Or The Residency – Submit Them Below And I'll Answer Them In This Post! .