So remember when I wrote a post looking back at Brian's solo career? I thought it'd be neat to do for the others. Honestly Howie was supposed to be next cause I do have a fond love for his Back To Me album…but then this popped up on twitter and I pretty much lost my shit. (I will do one for both AJ and Howie though, I promise!)
The result was me, excitedly binging on Nick's solo albums. My name is Rose and I have a problem. I know. Moving on, it led me to make a post. But rather than make four separate posts about each of his albums, I thought it'd be more interesting to kind of compare them all together. Cause as Nick has grown, so has he as a solo artist. And it'll give me an excuse to write a really long post about Nick. So buckle in!
---
Now Or Never
1st Single: Help Me
Last Single: Do I Have To Cry For You
Best Song: I Got You
What I remember most about this time was being scared about the future of BSB. This was back before we knew they'd be going strong forever and during the first real break the group ever took. No one knew what was going on and the idea of Nick going solo was kind of interesting but frightening all at once. Not to mention, it gave us a peak of the real Nick back then. Nick has a rocker side and honestly this was the first time we saw it in full force. "Help Me" was a solid single that did okay, even got on TRL. The real tragedy was "I Got You" never being released in the US as a single. (We did get "Do I Have To Cry For You" at least.) My favorite song? Honestly it's "My Confession", I don't even know why but it's something I'll sing over and over.
I think my biggest frustration is you can tell Jive meddled with this album. Some of the b-sides like "Forever Rebel". "Shout", and "Rockstar Baby" I think showed what his original vision was, which I think was better realized in All American thirteen years later. No lie…"Is It Saturday Yet?" still makes me giggle. And hearing Vegas be listed on "Girls In The USA" had me fangirling HARD when I was 16.
Favorite Memory from this era? Seeing Nick perform solo for the first time on TRL.
---
I'm Taking Off
1st Single: Just One Kiss
Last Single: Burning Up
Best Song: Falling Down
This was actually my favorite solo era of Nick's. Funnily in the US this was way under the radar. Basically unless you were a hard core fan of Nick Carter, you just didn't know this album existed. Almost nine years after NON, Nick finally came back to release more solo music. But this was different, he wrote on every single song this album. He didn't release this through a major label either – he released on Kaotic INC, Nick's personal label. This album happened solely because Nick wanted to make it happen and you could see it in every aspect from the album to the tour. Even the video for "Burning Up" had an invite for fans to show up and be extras in the shoot. Nick being the lovable nerd that he is, had a space themed tour and everything about this time was fun. A labor of love so to speak. The video for "Just One Kiss" felt like a sequel to the music video to "I Got You", and "Burning Up" was just fun. I remember him being just so appreciative. I told him I'd flown out (to Chicago) from Vegas just to see him, and he was surprised. Then kept thanking me. It was the sweetest thing.
As for "Falling Down" – this might be easily the best song of Nick's solo career. You can debate though that "I Got You" is. Both are gems and easily in my top five Nick songs.
Favorite Memory from the ITO era? It's this cover of "Here Comes The Sun". Please cover more Beatles songs Nick.
Seriously…this is just perfection and I can't take it.
---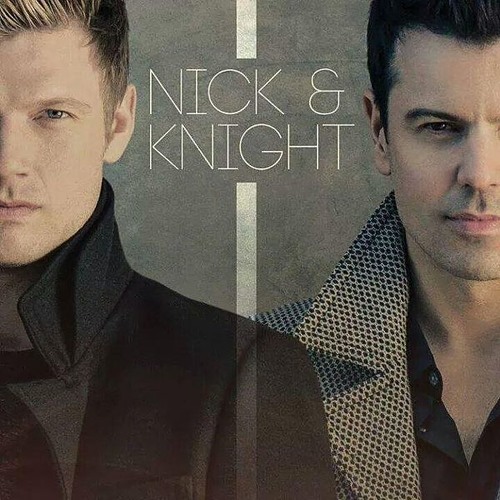 Nick and Knight
1st (and only) Single: One More Time
Best Song: Switch
This was a very interesting era, honestly. A few years after NKOTBSB Nick decides to surprise us all again and announce a project with Jordan Knight of NKOTB. Now, mind you I'm not a New Kids fan. I admit it. I went to the joint tour cause my fandom of Backstreet Boys goes that deep. The group were on a break between the first and second legs of the In A World Like This Tour and Nick? Well Nick likes to keep busy. Loves to keep busy really. The single wasn't too bad though the video was that sort of boyband cheese you know you can't give up on. It was a short lived era basically because Nick had to go back on the BSB tour. That said, the album did well – Nick's first time back on the Billboard 200 since Now Or Never. This duo got a lot of media attention which I think helped a lot when it came to his next era.
I adore "Switch". I really do. It's a fun song, a cute song and I can rock out to it.
Favorite Memory? This era is amazing because of NICK SINGING PONY. There. I said it. You know you're thinking it too. Admit it. That entire 90s section is freaking amazing but yeah, nope Pony kills me. Like holy shit Nick. He kills it singing that song.
Not to mention Nick's VIPs were pretty damn epic that tour. We stood in a circle, him in the middle. He just fielded questions from us, super chill. Then we got selfies and had stuff signed. And theeeeeennnn a soundcheck. Like, it was perfect.
---
All American
1st Single: I Will Wait
Last Single: 19 in 99
Best Song(s): Second Wind/Horoscope (I couldn't decide, sorry!)
Like I said above, this album felt like this was what he wanted Now Or Never to be. It was another Nick SURPRISE! record. He said he was recording and he got this done fast. Backstreet time? Clearly not a Nick issue this go around. This is probably my favorite Nick record – which is funny cause I'm picky when it comes to pop/rock. Hear me out though. Nick described this as "Beach Boys on steroids" and it's pretty accurate. You can really hear the retro influences throughout the album like with say "Man on the Moon" or "Cherry Pie". Not to mention "Tijuana" is one of my favorites because it's fun to sing at the top of your lungs. Nick dons a Buddy Holly look for the tour. And have you seen his "19 in 99" video? Hilarious. This album is just upbeat and light and I feel like it showcases the good place he is in his life. It got a lot of attention given how he'd just done his run on Dancing With The Stars.
"Second Wind" just has a great message to it and is good to listen to when you need a pick me up. As for "Horoscope", the story and imagery of the song suck me in every time.
Favorite "All American" Memory? His appearance on Legendarios. Just watch. It's great. Trust me.
---
Really when you look at Nick's albums he changes it up. Nothing stays the same except for how passionate he gets about the music. We know nothing about his new upcoming album but hell, based on what we've seen from him…I'm excited!